Airfare is dropping from the US to Europe and people are starting to think about taking advantage. As I write this, I am Googling flights from my city in the US to Paris. $474 round trip! I can hardly travel anywhere meaningful with in the US for that price. Traveling abroad with a toddler is something that a lot of people have very strong feelings against. Although, I agree with some points like splurging on a huge trip when they can enjoy it more, the current prices are making Paris much more accessible. We travel a couple of times a year to visit family in Paris and believe we benefit greatly from the experience. With a couple tips and a new strategy, a family trip with a little one is in for an unforgetable experience.
Here are my tips for making the most of Paris with your bambino:
1. Enjoy the thing that France is most known for: le style de vie. Make sure that everyone traveling accepts that despite the fun guaranteed to be had, we are still traveling with a toddler here. Expectations should not be the same has your college study abroad/backpacking years. Paris has a beautiful side to offer that is often missed as a typical tourist. Take advantage of that during your family trip. Enjoy parks, taste great foods, go to market, etc. A calm afternoon could be spent in the beautiful Jardin du Luxembourg. The children's park is wonderful. There is a small fee that is worth it.
2. Airbnb.com is wonderful for small families. The prices in Paris are extremely fair and you can be in a lovely home for a reasonable amount. Plus you will have a kitchen and be able to bring home cheeses, breads, wonderful produce, and eat like kings. Tip: make sure you know how many stairs you will be climbing in your French apartment. Also stairs are not measured the American way. The first floor in a French building is what Americans would call the second floor.
Here is a lovely airbnb that I would opt to stay in if we didn't stay with family. It has 2 huge bonuses: ground-level and a crib. Plus, it's insanely charming and in a great location. Oh, and that price tag is very reasonable.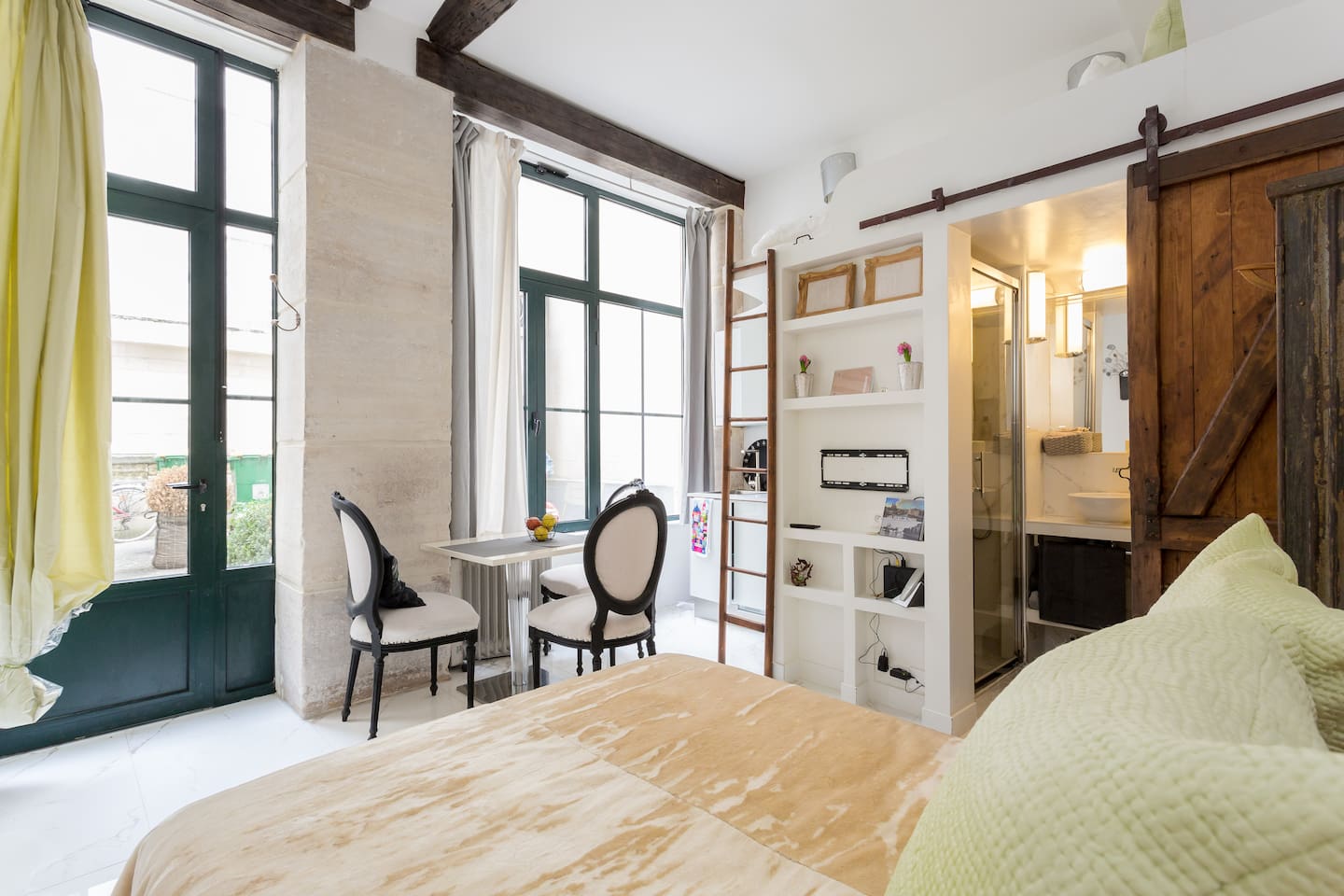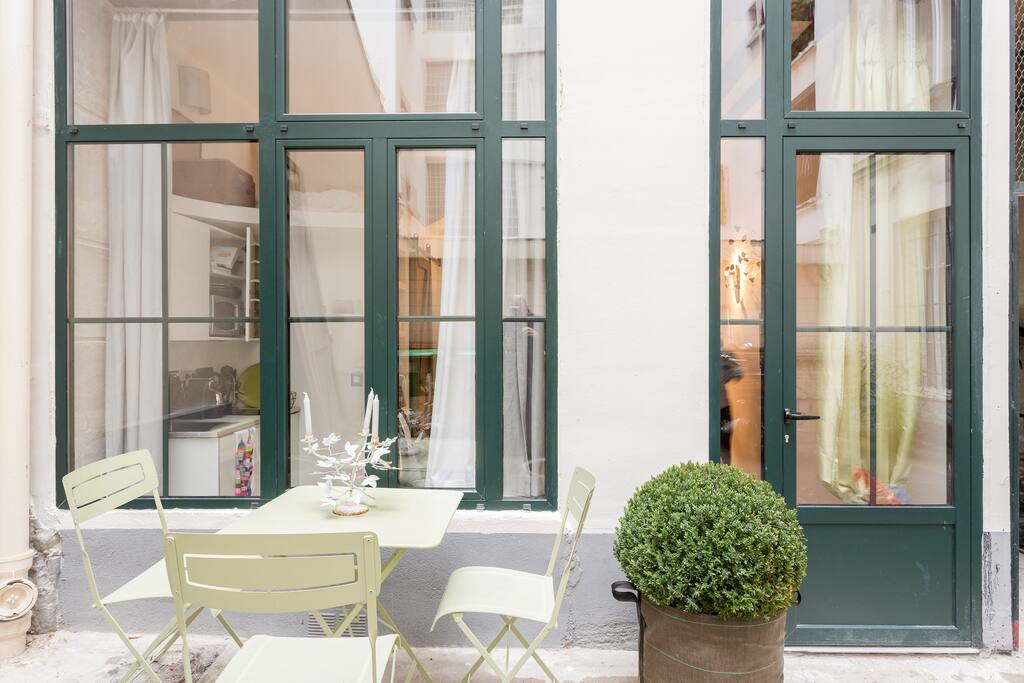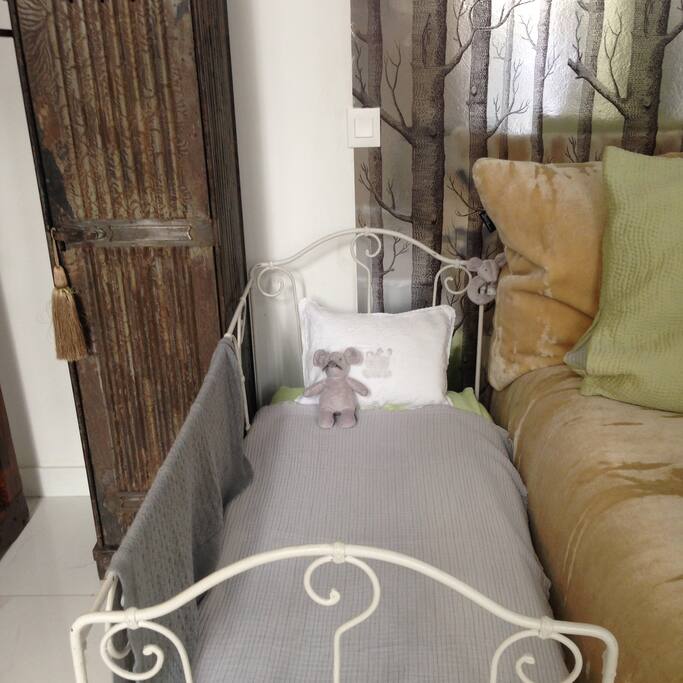 3. Pack light: Again, expect stairs in the metro. Don't listen to the mommy blogs that want you to buy this sponsored stroller, this pack and play, this lighter car seat, etc. I know you are thinking, you are going to this unfamiliar place and want to be prepared, but please… Go out with your partner and your child, take all of the things you are considering hauling from baggage claim to the metro/taxi and walk around the block. I'm serious. There is no reason to torture yourself. I know you are thinking this is Paris and I am going to have a major fashion moment. No, you aren't. Well, you might, but it really doesn't take more than jeans, a cool pair of sneakers and a great coat. a An umbrella stroller is the way to go. You can even buy one when you are there for 30 euro. They sell them all over, even pharmacies. Go ahead and bring a car seat if you want. It will get you from the airport to your room if you decide to take a taxi. If not take the RER and you will not need one at all. This saves my husband and I many headaches.
I am speaking from experience. My husband warned me on our first trip that I was over-packing for the plane, etc. But I was so worried we wouldn't have something that our daughter needed. I brought everything and all that it led to was silly arguments at the airport. We even lost her favorite stuffed animal and guess what! She got over it and we think it made her a little more adaptable.
4. Everything is theoretically walkable in Paris. You can definitely get into some pretty long walks, but we plan to take a few taxis rides when we just can't anymore and need to get home. Uber is also a thing, but depending on your cell phone situation it might not be an option. I know that Taxi's have a car seat exemption… I'm not sure about Ubers. I am not against driving without a carseat in the city, but I don't feel comfortable from the CDG to Paris personally.
5. Opt for buses if you are solo with the little one. If we are bringing a stroller out for the day and I am with my husband even, I avoid the metro. It's a lot of stairs and work. There is also just something that I do not like about the metro with young kids. I prefer to be able to slip the stroller on the back doors of the bus and cruise. Feel free to go right onto the second door and have your partner or a friendly person pass your ticket for you. The controllers do come around. Bonus: kids under 4 years ride the metro, bus and RER free.
6. Hit the non-committal sites: Monmartre/Place du Tertre (lots of steps if you don't know where you are going, opt for the funiculaire), Latin Quarter/Notre Dame, Jardin de Luxembourg (Great park!), Saint-Germain-des-Pres, The Marais/Place des Vosges, etc. There will be a Nutella crepe nearby for emergencies and a fun atmosphere for everyone to enjoy.
7. Take turns! For example, I really want to go to the new perfume museum the next time we are in Paris. My husband couldn't care less. He could chill at the park, go shopping for him, etc. with our daughter while I go do that. It will give everyone the space that is often needed on vacation and let you truly enjoy what you want. My husband is Parisian so he has a lot of friends that he would like to catch up with one-on-one, so I just repay the favor later.
8. Buy books and toys for the little one. I love toy shopping in the Grands Magasins for our daughter. It's such a pleasure for the whole family, because I am love the French perspective on play. Department stores are also family friendly (as long as children are well-behaved) and some have great cafeterias. La Grande Epicerie and the top of Les Galeries Lafayette are wonderful. The latter has a nice view.
9. Stay up upon arrival. You will be ready to sleep if you arrive at 8am in Paris, but don't! Let your toddler nap. I find that not letting a toddler sleep when they need it never helps anything. If you can distract them in the afternoon after their long nap, they should be ready to get back to bed around 8. The first day might be a little odd but don't worry! It will get better. I truly believe that the more you stress, the more out of sorts the little one will be. Just keep in moving and give time to adapt.
10. SOS Medecin: Don't be afraid to call the doctor! Toddlers tend to get sick the moment they step foot on the plane. France has one of the best and most affordable healthcare systems in the world. If you are at a hotel, ask the concierge for help. If not, call SOS Medecin, even ask a neighbor. Here is a way you can start that conversation, "Bonjour/Bonsoir Madame/Monsieur, Je suis desole(e) de vous avoir derange(e) mais mon enfant est malade et je voudrais appeler SOS Medecin. Auriez-vous la gentillesse de m'aider s'il vous plait? Je suis etrangere et j'ai peur qu'ils ne vont pas me comprendre au telephone. » Maybe you just show them the paper, but I am guessing that the guardian of the building or someone will be willing to help you. Maybe even your AirBnB host. If they ignore you, don't take it personally. People are busy. Some are jerks, but if you have a kind approach and a sick child, people are human enough. Note: SOS Medecin is not just for "emergencies" the way we find them in the US. It's for a night time high fever, a flu that keeps you bedridden, etc. Think Urgent Care if you are from the US. It is also not crazy expensive. I used it last time in Paris and was charged 50 euro, but she told me the normal rate for foreigners is 85. My antibiotics and pain medication that was prescribed cost about 8 euro. Very affordable for someone with 0 insurance and no French citizenship.
11. I say this all of the time and to everyone visiting France. Say Bonjour/Bonsoir Madame/Monsieur to everyone. Everyone! Do not talk or ask anything before you say Bonjour. Do not ask if they speak English unless you have said Bonjour. Bonjour. Bonjour. Bonjour. Very important. I think a lot of people come home thinking that the French are rude for this very reason. You just have to say hello in French culture. It's a very strict rule.
12. Skip the Eiffel Tower. Please… It's tall and boring with crazy lines. There are many places to get a good view in Paris, including Monmartre and from there, you will have view with the Eiffel Tower in it.
13. There are no booster seats in general and kids are expected to be calm in restaurants. There are really not a lot of children out at restaurants in Paris with a few exceptions. We are lucky to have our in-laws and nieces and nephews to help with our daughter, so we can snag a romantic dinner or two. Otherwise we try to opt for a picnic. Remember you are allowed to have wine in parks in France and don't worry, you will still experience the wonders of French cuisine. In some respects, the baguette, cheese, some charcuterie is the best part of French cuisine. Otherwise, I like to wait until our daughter has fallen asleep in her stroller at her nap time and sneak into a restaurant. Try to choose a table outside of the chaos in order to be respectful to other patrons in the case that your kiddo wakes up cranky
14. Puppet show at the Champ-de-Mars or Marionnettes du Champ-de-Mars. This a pretty well kept secret even though it is in such a famous place. It's absolutely adorable and very well done.
15. Go to the Louvre, Musee d'Orsay, Les Invalides, Centre Pompidou, etc. and enjoy! Come with your French manners (see tip #11) and you might even get to skip the line when the doorman sees your stroller. From our experiences, we have skipped many a line at the Louvre, Airport, shopping centers, etc. People still have hearts in Paris! They just want you to follow a couple of their codes.
16. Stock up on some French clothing. We love Cadet Rousselle from Galeries Lafayette, Jacadi and Petit Bateau. The latter has the best body suits. Cadet is charming and affordable. Jacadi is more pricey and we tend to buy if there is a deal or we just can't resist something.
17. Have your toddler taste his/her first pain au chocolat. It's a pleasure every child in France deserves. My personal favorite bakery indulgence is a croissant aux amandes.
18. Sick of baguettes and picnics? Chinese restaurants are easy to eat in or take out from and usually pretty good. *fingers crossed* La Grande Epicerie has excellent Asian takeout, but for a price. I also like Maison Kayser, Chez le libanais and again, La Grande Epicerie de Paris. Honestly, I might get hammered for this tip… but UberEats is a thing. I was feeling blah one day and just wanted some takeout while my husband and daughter were out. I had some amazing Japanese delivered and it was honestly a wonderful afternoon. There is also something about perusing on your phone and picking exactly what you want that will give you a break from ordering out if you don't speak French.
Don't hesitate to walk into a place like this. You might have to rely on gestures, but it will be fine!
19. Try an audio walking tour on your phone! Simple and again: non-committal!
20. L'As du Falafel in the Marais is wonderful. Easy place to eat when you are walking through the neighborhood. Enjoy one of my favorite Parisian past-times. Shopping with your family. I love that Frenchmen are so ready to accompany their wives shopping. Try to find something new and quality for yourselves. It's a great way to remember the trip and share a tender moment togheter. The Marais is ideal for these moments.
21. Hit up some markets! Whether it is food, antiques, etc. I love strolling through a market with the babe and husband. So much to see. We can each usually find something that pleases us. For example, a typical walk in Paris often ends up with some new tea for me, an antique book for my husband and a sweet treat for our daughter. This is the pleasure of visiting Paris for us. We just enjoy the day.
22. Communicate with your partner! I have to say that this is the best tool for us traveling internationally. My husband taught it to me, because I was not great at it to begin with. Also, when you are tired, overwhelmed, on each other's heals, etc., it's normal to have a mild breakdown at some point. For me, my alter ego "Vacation Paige" tends to come out and I get annoyed pretty easily. I have conquered that by recognizing my feelings and being proactive. The biggest thing that saves us is, "Hey honey, I really don't want to go on the metro. Can we take the bus or can I get a taxi and we just meet at home? If it's a big deal for you, I'll suck it up, but I'm afraid the stairs and the crowds are going to ruin my mood. I really don't have much more energy to give to this day." His response is typically, "Oh yeah, of course. I actually wanted to go to this bookstore and meet up with a friend. They would love to see C and that way we can catch up alone with out boring you with our inside jokes and stories. See you at home. Love you." It's amazing! Ha, you might be thinking that is so obvious, but seriously, it's so simple and has saved our marriage.
23. Get creative with activities. Airbnb has some cool "experiences" on there website that you can try out. There seem to be a lot in Paris… everything from drawing in a park, food experiences, exercise experiences, tours, etc… I would check out some sites like this and get some ideas for things that might be doable for your family. After all, you know what your child can handle best and you know your interests. It's about truly embracing what you as a family would benefit from and not just following the guide book to a T. Oh, and no, this is not sponsored by Airbnb, but as someone who has lived in Paris and visits often, the experiences seem legitimate. I'm planning to try some myself in November.
Voila! 23 quick tips on making the most of Paris. I could go on and on and I probably will, so watch out for more!
The main theme in these tips is to relax and enjoy the beautiful city for what it is. Life with a toddler is complicated as you know, so make a schedule that works for you. Don't feel pressure to get to everything. Paris has many things to offer, but the best part of Paris is the lifestyle. Take some time to enjoy it! Go to the museums that you care about and truly ask yourself what you want to do, because it's your vacation and the only thing that matters is that your family has made a good memory by the end of it.
Don't hesitate to comment with questions or your own tips.
Xx.
Paige